From July 27 to July 3, 2022, TAMTAM did an interesting collaboration project with the German musicians of Quartet Uwaga. A particularly versatile quartet of German musicians with whom it was great to collaborate. Uwage is: a virtuoso classical violinist with a predilection for Eastern European music, a jazz violinist with punk rock experience, a masterly improvising accordionist with a Balkan sound in the blood and a bassist who feels just as at home in symphony orchestras as in jazz combos or funk bands.
At the initiative of the Festspiele Mecklenburg-Vorpommern, we were brought together to do a small tour of 4 heritage sites in North-East Germany.
We came up with a way in which the musicians could supplement or even take over the music of the performance. That was quite difficult because for the players the music is a score for the movement of objects. They play in sync with the soundtrack like ballet dancers do.
In the end the musicians played looking at a monitor on which the image we were making could be seen live. This way they could improvise and accompany us while we also heard our music. Before the tour we spent 2 days with them to give each scene its own atmosphere and instrumentation.
We played 12 shows together as part of the wider Festspiele programme.
The locations were fantastic: a medieval monastery church in Rhena, An Old Shipyard in Rostock, a castle in Ulrichshusen and the stables of a manor house in Stolpe.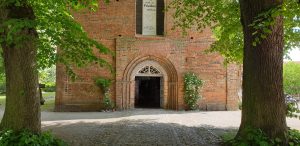 Uwaga is:
Christoph Koenig: viool, altviool; Maurice Maurer: viool; Miroslav Nisic: accordeon; Jacob Schmitt: contrabas