Berend Bergenvaarder's Hanseatic Journey
A reading performance in the context of the Hanseatic Year 2023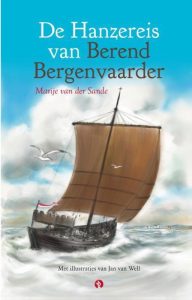 In 2017 Marije van der Sande wrote the historic youth novel De Hanzereis by Berend Bergenvaarder ( Berend Bergenvaarder's Hanseatic Journey which takes place in 1370.)
Based on this story, TAMTAM objektentheater created a project for primary schools in their home town Deventer in the context of the Hanseatic Year 2023.
A reading performance with projected drawings from the book, accompanied by Gérard Schiphorst with live medieval music.
The performances will take place from April to August 2023
Marije reads excerpts from the exciting story about the young Berend who travels from Deventer to Bergen in Norway in a cog ship.
Through his eyes we see the world of the Hanseatic League and we understand more about life in those days.
The children are challenged in a conversation to think about the differences between then and now. It's amazing how the medieval people could live without electricity.
In addition, there will be a digital audio edition of the entire book that will be given to each participating class after the performance.
This project is only available in Dutch language